A Successful Start
Work-Based learning has been running for a term now and the course aims to build a bridge to employment for those looking to get into the job market at 16. We help the student with their work skills: team work, communication, problem solving and how to act in a business environment. They are in school for two days a week, and then in a work experience placement for the remaining three days.
We have students placed at Osborne Property Services, RSK Civil Engineering, Apex 360 Multisports, SWR, The Electric Centre and FFEI in job roles as varied as IT, graphic design, civil engineering, manufacturing, multi-trades, childcare, sales and sports coaching.
One of our successful partnerships has been with Osborne Property Services, who placed two work-based learners.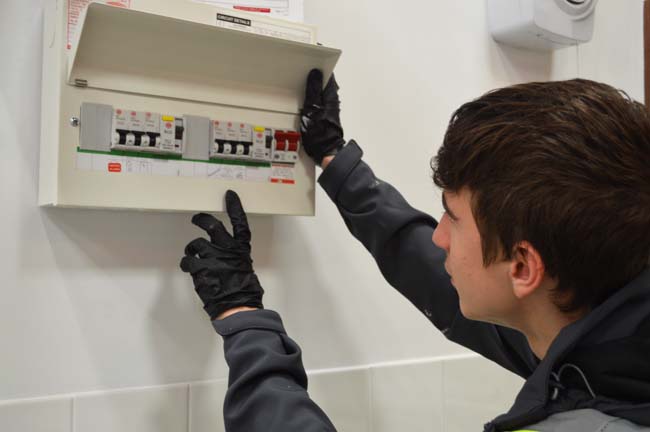 Connor joined the Repairs and Maintenance Team as a Multi-Trade Operative where he has been shadowing Electricians, Plumbers, Drainage Operatives and Supervisors. Visiting residents' homes on a daily basis, he is also developing skills in customer service and communication. Connor said, 'Taking this course was one of the best decisions I have made. I will have lots of relevant experience on my CV, making me more
confident in applying for the right apprenticeship.'
Ashley was unsure of what he would like to do, so has been supporting a number of different office departments. To utilise his creative skills, he has been helping the Community Investment Manager to research, plan and deliver events with community partners. Ashley said, 'I can really see the difference this course has made. I love my placement; I'm meeting new people and learning new skills, I feel motivated and really look forward to going to work.'
Hannah Bailey, Community Investment Manager at Osborne Properties said, 'For Osborne, it has been great to watch the two boys develop; they have both exceeded our expectations. Supporting this programme has had an extremely positive impact on our business and our own employees, who love the chance to mentor young people and pass on their skills and knowledge. We are extremely impressed with the attitude, behaviour and work ethic of Connor and Ashley.'
The school is looking to build on its success and grow the number of placements and opportunities we offer next year. If you own a business or work for a company who could support a student, or would like to know more about the course. Please get in touch with me at e.hodges@astleycooper.herts.sch.uk
Mrs Hodges, Work-Based Learning Co-ordinator