Media Studies
In an ever-changing digital age, students can begin to discover how Social Media, TV, Film and Gaming can affect and influence people on both a social and individual level. In each unit, the students will develop their critical thinking in exploring these different aspects of Media.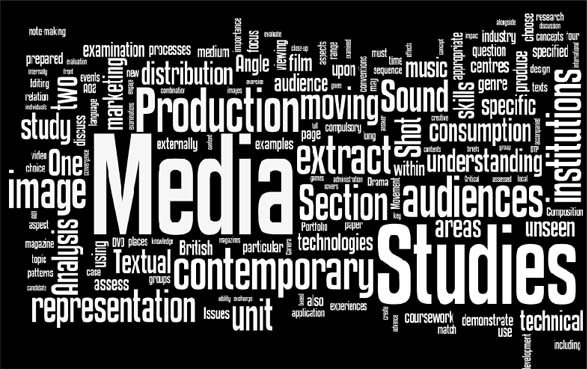 Additionally, Media Studies students take on the role of a producer - students will create their own films, advertising campaigns and magazines. This allows students to put their critical understanding in to practice.
Each course in Media Studies is divided between written and practical tasks, providing opportunities for students to study a variety of different skills and tasks. In addition, through coursework and trips, Media Studies provides opportunities to develop skills that are invaluable within the working world.
GCSE (Eduqas)
In KS4 students study a wide range of Media products, including - TV, Print Media, Video Games, Music Videos and Social Media.
The course itself is split between looking at theoretical approaches to Media and creating their own products. In Year 10 the students will begin to create a product designed for a brief, which is set by the exam board. These products will be centred on one of the following: Print Media, Online Media and Moving Image. This makes up 30% of the students' overall GCSE.
At the end of Year 11, students take two examinations on topics chosen by the exam board where students will be expected to apply theory and social, historical, economic and political contexts to each Media product. This examination comprises the final 70% of the GCSE.
A-Level (Eduqas)
In KS5 the A-Level course is split between practical coursework and formally examined units.
In Year 12 students will be expected to explore all areas of the media through set text, looking closely at the social, economical, historical and political elements of the products. Throughout this year students will gain a wide knowledge of the Media and how it impacts the world we live in. Each unit of work will also require a practical element, were students will be creating a product similar to the one looked at. These will be used to assess the student's understanding of the products and will make up 30% of their final grade.
Toward the end of the course students will sit two formal assessments, which are worth 70% of the final grade, that will test their knowledge of their set products and their understanding of the four key areas of Media: language, audience, industry, and representation.
Media Studies Teacher, Mr S Kilmore