P16 Dress Code
We are extremely proud of you, our Sixth Form students. We know that you are important role models for students lower down the school and that what you wear is important in maintaining standards of dress across the whole school. You are also highly visible to people in the community outside of school and we want them to have an excellent impression of you as highly employable, well presented young people whenever they see you coming into or leaving the school premises.
You should therefore come to school in smart dress, suitable for a professional environment. This is also now a key requirement for OFSTED where a judgement will be made upon pupils' adherence to school uniform policies.
General rules:
No facial piercings are allowed
Make-up and hairstyles should be natural and in-line with whole school policies
Only shoes or boots should be worn, not high-heels or flip-flops
Jeans (in any colour), any denim wear and hoodies are not allowed
Coats, gloves and hats should not be worn inside the school buildings
For female students:
Skirts and dresses must not be more than 10cm above the knee
Trousers should not be tight fitting
Leggings are not allowed outside of dance lessons
Tops should be modest and have sleeves
Jackets are compulsory from September 2015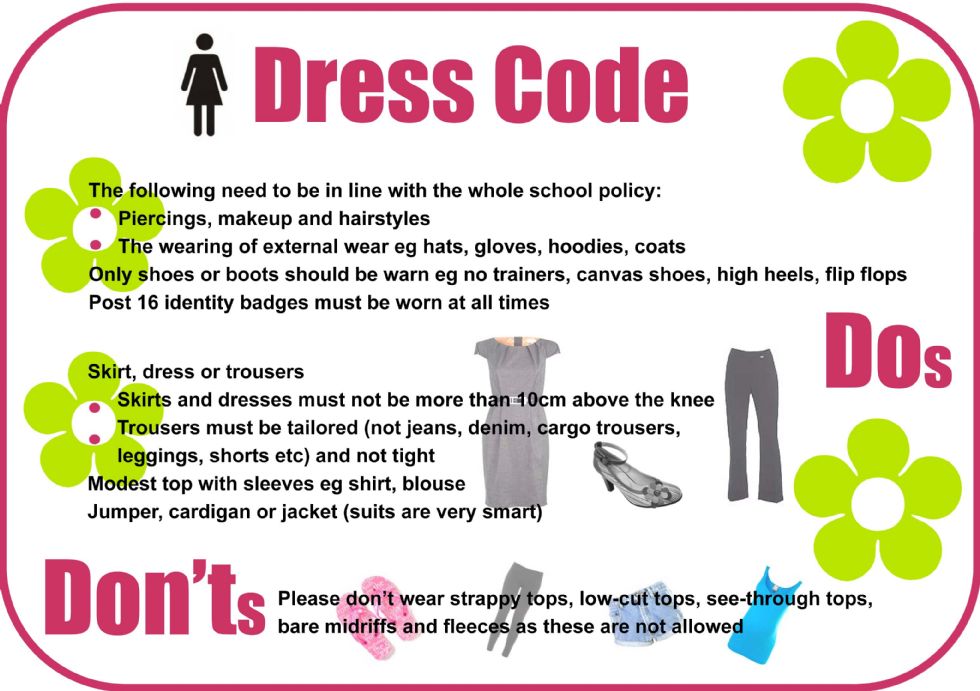 For male students:
Collared shirts should be worn with a tie
Trousers should be tailored
Shorts are not allowed outside of PE lessons
Jackets are compulsory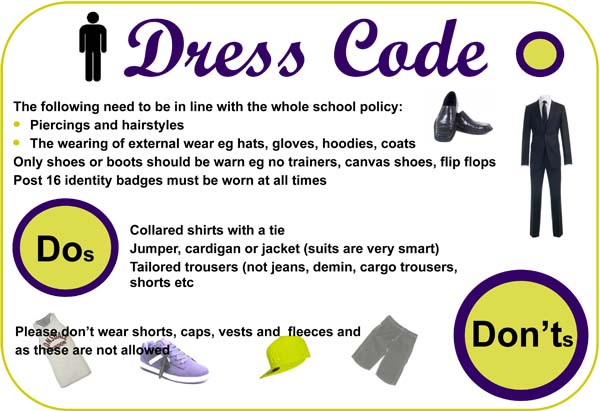 Please note that failure to comply with the dress code will mean that you will be asked to go home to change and continual infringements will jeopardise your place in the Sixth Form.
Miss C East, Head of Sixth Form