Astley Cooper Builds the Bridge to Employment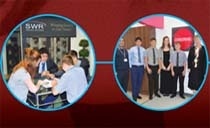 The Astley Cooper School has launched a unique and innovative Work-Based Learning Programme, the only one in the South East. See the full article.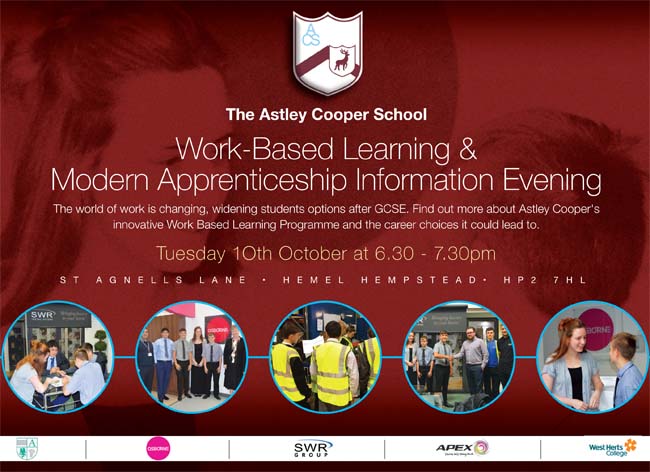 The Astley Cooper School has launched a unique and innovative Work-Based Learning Programme, the only one in the South East. It aims to bridge the often large gap between school and work, giving students a clear pathway into employment. Work-Based Learning is a one-year Post 16 course, in which students spend part of the week in school and part of the week in a work placement, leading to employment or apprenticeship.
Deputy Headteacher, Matt Stevens, said, 'When I started meeting local business leaders they told me that it was difficult to attract young people to join them, and when they did, some of the apprentices didn't have the basic skills required in the workplace to be successful.' The school has designed the course so students spend the first four weeks in school developing the basic skills required by businesses, before starting their work placements for up to three days a week for the rest of the year. These work skills include teamwork, communication, problem solving, and customer service, which will be delivered by the school and guest speakers from partner businesses.
A parent, said, 'What a wonderful opportunity. Why wasn't this available when I was in school? It would have helped so many of us to decide the correct route into the work environment.'
Astley Cooper School is a member of the Hemel Hempstead Business Ambassadors and is working closely with a growing number of highly regarded businesses including SWR, Osborne Property Services, RSK, FFEI, Apex360 and Marlowes Shopping Centre.
Jennifer Casserly, SWR, said, 'We are very proud to be a part of the programme as it is a great way to introduce business and working life to young people, giving students guidance and experience that they wouldn't get at college or sixth form.' Hannah Bailey of Osborne Property Services adds, 'As local businesses we have a responsibility to ensure that we help the next generation to have a positive and valuable experience in their journey from education to work.'
As our business network grows, next year's students can expect to have opportunities in business areas as diverse as engineering, banking, finance, retail and practical trades such as building and mechanics, administration, project management, ICT support, and legal services.
Jennifer Casserly, SWR, added, 'We are very passionate about giving all young people, no matter their background or qualifications, a fair chance and opportunity to find their path and not be limited to the traditional style of learning. This programme finally gives students just that.'
If you want to find out more about Work-Based Learning, there is an information evening at Astley Cooper School on Tuesday 10 October between 6.30 - 7.30pm. There will be an opportunity to meet current students, staff and business partners.
The Work-Based Learning Programme is open to all Post 16 students in Dacorum.
Any student, parent or business, who would like more information, please contact Matt Stevens (m.stevens@astleycooper.herts.sch.uk) or our Work –Based Learning tutor Erica Hodges (e.hodges@astleycooper.herts.sch.uk)