A Level Results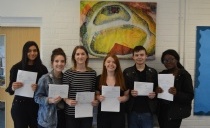 Astley Cooper School's Sixth Form students celebrated their successful A level results at the school this morning.
Hazel Barton, who got Bs in Biology and English Literature and a D in Chemistry, achieved her long term ambition to start training as a vet by gaining a place at the prestigious Royal Veterinary College (RVC) - part of University College London – to study a BVetMed (Hons).
Last summer, Hazel got a taste of what it takes to be a vet when she gained a coveted place at the Sutton Trust summer school with the RVC. When she received her results, she said how much she appreciated the support and encouragement that she had got from her teachers, saying that 'Everyone at Astley Cooper really cared about how we did.'
Former Head Girl Farihah Khan, who got an A* in her Extended Project Qualification last year, Bs in English Literature and Media and a D in Biology, has been offered a place at Brunel University to take a BA in Game Design and Creative Writing, thanks in part, she said, to her 'brilliant' English teacher, who had 'inspired' her.
Farihah went on to say that 'This morning was one of the happiest days of my life – it was like an emotional roller coaster. It felt like I was ending an important chapter of my life.'
Trainee accountant Emma Staines - who has already started work with Osprey London, a company that is sponsoring her to take her Association of Accounting Technicians (AAT) qualifications - gained two Bs in Finance and Media and a C in English Literature. Emma said that she is happy with all her results and very pleased to have started her professional life with such a good company.
Headteacher Edward Gaynor said: 'Congratulations to our Sixth Form students. Many of them had already received their university offers before they came into school to collect their results. It is always such an emotional day for our students, their families and teachers. This has been a lovely year group and while we are sorry to see them leave, we are pleased that so many of them have begun the next stage of their lives in such a positive way.
We thank their families for their support over the years and wish all our students well as they go out into the wider world of work, training or higher education