Pre-Apprenticeship Annual Awards Evening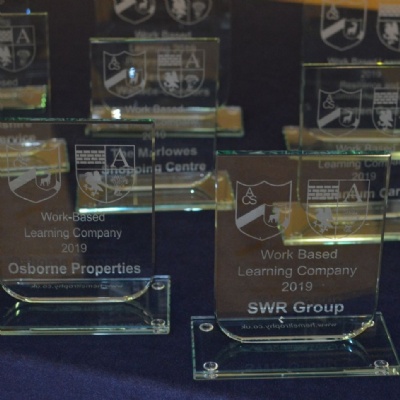 And the winner is... Pre-Apprenticeship students take a bow
The Astley Cooper School Pre-Apprenticeship students celebrated a job well done at their annual awards ceremony this week. The students have all successfully completed the vigorous one-year course split between workplace and classroom and are now ready to be unleashed on to the world.
Student of the Year Jake Ashpole impressed his supervisors at the engineering company SWR so much he had three companies competing to sign him up for a business administration apprenticeship. Jake was overjoyed with his award, 'I did work really hard for this and I am chuffed. I loved working with SWR and really grateful for the boost they have given me in my career.' Jake has already started his Level 3 Apprenticeship at Sopra Steria in Hemel Hempstead.
Most Improved Student went to Jessica Wallace-Conners who cared her way to stardom at the Quantum home for dementia patients in Jarman Park. Jess is the first to admit that she struggled with every aspect of school before joining the course but once she got to grips with working with vulnerable adults her natural empathy and maturity shone through. Quantum Apprenticeship Manager, Clare Ding said, "She is a superstar, friendly, hardworking and has developed fantastic relationships with our clients. She is everything you would want in an employee and we are delighted that she is joining us as an Apprentice this year.'
Sophie-Hurley Brill carried off the Best Placement Award for her sterling work in Human Resources at the multinational Atlas Copco. The Resilience and Commitment Award was presented to Lauren Gale for her efforts in marketing at the Marlowes Shopping Centre where she pulled off a winning performance despite suffering some health problems.
Supervisor of the Year went to Stephen Greenfield an experienced manager from Osborne Estates. He was honoured for his enthusiastic guidance of Rebecca Mullen over the six-month placement. Steve helped Rebecca develop from raw recruit to successful winner of a prestigious Apprenticeship with Osborne. Rebecca said, 'Steve is my hero. He is so patient and friendly and taught me so much and gave me so much confidence, I'll always be grateful for his help.'
Head teacher Edward Gaynor praised all the students for their work throughout the course and recognised the big change in all of them. To the generous employers who work with the students he said, 'Without your help this course could not exist. It is unique in Hertfordshire and this is down to your commitment to the young people of Hemel Hempstead and to the future of our local economy. We are all very grateful for the fantastic opportunities you have given to our students.'
The Pre-Apprenticeship course is split between the classroom, studying 3 BTEC courses in business and a six month, 3 day per week, work placement. The Astley Cooper School is currently recruiting students for next year's course.
Our business partners include, Toni and Guy, Pheonix Property Services, RSK, Aubery Park hotel, Dacorum Music Service, Osborne Estates, SWR, Robert Dyas, Apex 360, The Tackle Shack, Five Star Trophies, Marlowes, Atlas Copco, Edwards & Blake and The Willow Charity Shop.