LGBT+ Inclusion
Introduction
At The Astley Cooper School, we have always prided ourselves on our dedication to inclusive education. Part of our mission to make schools inclusive for all learners is the LGBT+ Staff Allies Programme. As part of this programme, members of staff can be approached in confidence to talk through issues around sexual orientation, romantic orientation or gender identity. The colleagues who feel confident in discussing these matters wear a special Ally badge on their lanyard or clothing. This lets LGBT+ students, staff and families know how accepted, celebrated and welcome they are in our diverse and supportive school community.
We believe programmes such as these are important for LGBT+ youth. Where students are of a particular faith or ethnicity, they can often discuss their identities at home with their loved ones who share the same characteristics. This is seldom the case for LGBT+ young people. We recognise the necessity of establishing a platform in which students can express themselves freely with a trusted adult.
The Allies programme is just one of many initiatives we have undertaken to become an even more inclusive school. We also run a popular LGBT+ Student Group (currently suspended due to covid restrictions) which hosts social events for students. All students are welcome in this group.
| | |
| --- | --- |
| | We also run an annual Design a Poster Competition every year in May to mark International Day Against Homophobia, Biphobia and Transphobia (www.may17.org). Students are taught about the British values of respect, tolerance, and dignity, as well as the provisions in the Universal Declaration on Humans Rights that protect LGBT+ people. These messages are delivered to students through form time, assemblies, and our modern, inclusive PSHE curriculum. |
The Astley Cooper School would be delighted to work with any schools in the UK or abroad who wish to develop similar programmes. Please contact the school for more information.
Staff Allies Video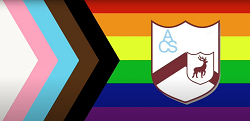 Useful Links
Hemel Hempstead Teacher Introduces Initiatives to Make School More LGBT+ Inclusive (Hemel Today, 2020)
Switchboard LGBT+ Helpline: https://switchboard.lgbt/ or phone 0300 330 0630
Mermaids, Helping gender-diverse kids, young people and their families