School Uniform
Girls (All uniform is compulsory)
All new Year 7 students starting in September, must purchase ALL uniform items including skirts and trousers from SWI. Please note your order must be placed before 10 July 2020 to ensure delivery in time for the start of the new term.
School Blazer
Black with school badge - only available for SWI
School Tie

KS3 (Y7/8 &9) double stripe - only available from SWI

KS4 (Y10 &11) single stripe - only available from SWI

Skirt or Trousers
Black - only available from SWI
School Jumper - optional
Maroon V-Necked - only available from SWI

The above items are only available to buy from SWI please use the link below

Shirt
Plain white shirt (long or short sleeved) with collar
Shoes
Plain black shoes. No boots, trainers, canvas shoes or plimsolls
Coat

Dark coloured. Hoodies are NOT permitted
Boys (All uniform is compulsory)
All new Year 7 students starting in September, must purchase ALL uniform items including skirts and trousers from SWI. Please note your order must be placed before 10 July 2020 to ensure delivery in time for the start of the new term.
School Blazer
Black with school badge - only available from SWI
School Tie

KS3 (Y7/8 &9) double stripe - only available from SWI

KS4 (Y10 &11) single stripe - only available from SWI

Trousers
Black - only available from SWI
School Jumper - optional

Maroon V-Necked - only available from SWI

The above items are only available to buy from SWI please use the link below
Shirt
Plain white shirt (long or short sleeved) with collar
Shoes
Plain black shoes. No boots, trainers, canvas shoes or plimsolls
Coat
Dark coloured. Hoodies are NOT permitted
PE Kit (All PE kit is compulsory)
Shirt
Blue polo shirt with the school logo - only available from SWI
Shorts
Maroon shorts with the school logo - only available from SWI
Tracksuit Bottoms - optional
Navy tracksuit bottoms - only available from SWI
Socks
Maroon Astley Cooper School socks - only available from SWI
Rugby Shirt (Boys)
Reversible maroon and blue Rugby shirt- only available from SWI
Sweatshirt (Girls)
Navy Hooded Sweatshirt with the school logo - only available from SWI
The above items are only available to buy from SWI please use the link below
General
Uniform for our current students:
We are now using SWI to supply ALL our uniform including skirts and trousers. When you are ready to replace skirts or trousers for your child you may wish to use this supplier.
If all our students are wearing identical uniform this removes the pressure from parents to purchase branded items.
The following need to be in line with the whole school policy:
Hair must be of a natural colour (eg no blues, greens, pinks) and not cut into an unusual style (eg no extreme lengths, no 'tramline or shaved patterns)
Any makeup worn must be discreet and natural
Nails must be short and natural (no extensions or coloured varnish)
Jewellery must be limited to one pair of small earrings, one ring, one small chain/necklace, one watch. No facial piercings or retainers; this includes piercings within the mouth
Shoes must be plain black and sensible (trainers, canvas shoes and boots are not allowed)
The wearing of external wear eg hats, gloves, hoodies, coats, is not allowed within school buildings at any time of day
For Post 16 students
Shoes or boots should be worn, eg no trainers, canvas shoes, high heels, flip flops
Post 16 identity badges must be worn at all times
Boys
Collared shirts with a tie
Jumper, cardigan or jacket (suits are very smart)
Tailored trousers (not jeans, denim, cargo trousers, shorts etc.)
Girls
Skirts and dresses must not be more than 10cm above the knee
Trousers must be tailored (not jeans, denim, cargo trousers, leggings, shorts etc.) and not tight
Modest top with sleeves eg shirt, blouse
Jumper, cardigan or jacket
School uniform is a very important part of our community identity and must be worn appropriately. Uniform for all students is only available to order online at Sportswear International (www.swidtp.co.uk).
Orders can be placed by phone, online or by post. Orders will be delivered by post direct to your home (DO NOT send orders to the school). Please use the link below.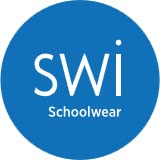 No uniform will be available from the school except ties, which can be purchased from the Finance Office